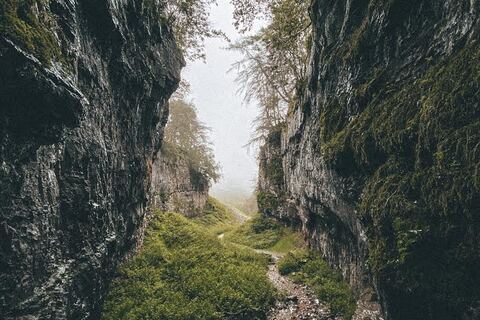 Countryside & Nature
Our Limestone Land
Countryside & Nature
Yorkshire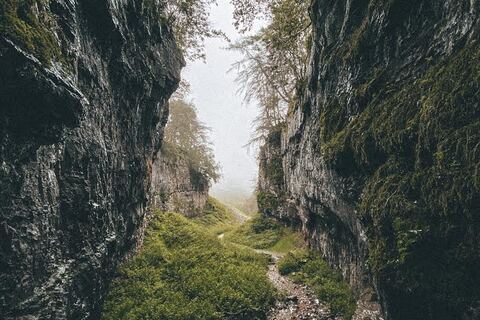 Experience Overview
Join us on a journey above and below Ingleborough, one of the Yorkshire Dales famous Three Peaks, for a 450 million year journey through time.
Party size

Up to 20 people
You'll love this because
Follow in the footsteps of the first Victorian explorers on a 1/2km journey into Ingleborough Cave.
Stand in the base of the spectacular Trow Gill Gorge, where a huge river once carved the limestone.
Peer down 100m deep Gaping Gill, the U.K's most famous pothole, large enough to house York Minster!
Fitness level
Expect to walk about 7 miles in typical outdoor terrain.
What you will do
On this guided walk, lead by a local expert caver and published author, you will explore some of the UK's finest limestone scenery. Our bespoke route was put together specifically for this event, and will take you to many sites of significant geological interest including a major unconformity, the Craven Fault system, Ingleborough Cave, Trow Gill gorge, Gaping Gill and other fascinating lesser known features.
What's included
Food & drink are not included. There is a small shop at Ingleborough Cave, selling hot & cold drinks, confectionery & ice cream (through spring & summer).
What I might need
Please come equipped for a days walking with walking boots, weather protection and a good packed lunch! No special geological equipment is required.
Cancellation policy
For a full refund cancel within 24 hours of booking, or at least 14 days before the Experience is scheduled. If you cancel 13 - 7 days before you'll receive a 50% refund. Read full Terms & Conditions here.
FROM £70
| Mon | Tue | Wed | Thu | Fri | Sat | Sun |
| --- | --- | --- | --- | --- | --- | --- |
| 29 | 30 | 01 | 02 | 03 | 04 | 05 |
| 06 | 07 | 08 | 09 | 10 | 11 | 12 |
| 13 | 14 | 15 | 16 | 17 | 18 | 19 |
| 20 | 21 | 22 | 23 | 24 | 25 | 26 |
| 27 | 28 | 29 | 30 | 31 | 01 | 02 |
Spaces available
Limited spaces
Fully booked
WHERE TO MEET
Within 0 miles of Ingleborough Estate Nature Trail, Clapham, LA2 8EA
---
WHAT MAKES THIS UNMISSABLE
Find more unmissable experiences
More Unmissable experiences in Yorkshire